EXCEL
Your Career In Design
UMO's Design Literacy Program, UX Certification Courses, UX Design workshops, and Masterclasses help aspiring individuals and teams build their design innovation muscle through cohort and experiential learning practices that result in real impact.
Know More
Design has to be inclusive, and accessible to everyone everywhere. The design Literacy program empowers individuals to be design-sensitive.
Enroll Now
Job guarantee UX certification course with 1:1 mentoring, we help individuals become purpose-driven designers with a path to design leadership.
Know More
Want to learn about design?
Don't know where to start? 
Schedule a free call for a one-on-one session with our mentor.
Scholarships for Developing Nations & Economically Challenged. 
We want you to excel in your career, and money should not hinder your prospects. As part of the UMO Design Foundation's continuous efforts to support Developing Nations and economically challenged in the developed countries, we provide scholarships for the students to get access to quality and affordable education. We make sure that talented students with the dreams of Nations can achieve their career goals. 
UMO Design
Grads
UX Certification Program
Complete your UX Design Certification in this thoroughly planned 24-week course.
UMO Certified UX Product Designer
Design Essentials
8 weeks

UX Design
4 weeks
User Research
4 weeks
UI & Visual Design
4 weeks
Design Leadership
4 weeks
Product Designer
Comprehensive thinking is the biggest advantage of the full stack designers. A designer who is familiar with the product development and design process, he knows the limitation of product design.
Flexible Program
Tailored to an individual's interest that creates Craftsmen, UX Designers, Visual Designers, and with a path to leadership.
Wondering how to
start

your Design Career with

no experience

?
Meet with an industry expert for a FREE one-on-one UX Mentoring Session.
Set up a plan for changing careers, learning the basics, and landing your first UX role.
SCHEDULE A FREE MENTORING CALL
Experience + Passion + Drive
Expert leaders from the industry, trained in design and passionate about teaching and mentoring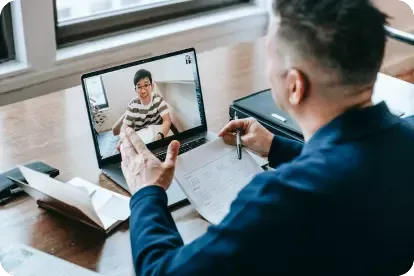 Mentors & Accountability
Get mentored by our hand-picked, world-class mentors, supported by our student success team.
Real Projects & Portfolio
Learning-by-doing program with a range of real-world case projects ideal for your UX portfolio to land your dream job.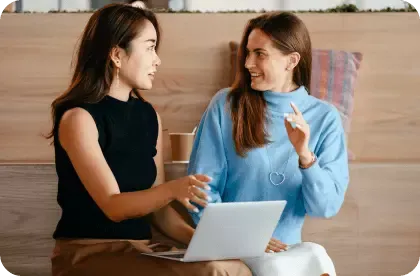 Career Assistance
Benefit from expert advice to help you master the UX job search and be a part of our professional partner network.
Blended and Experiential Learning Model
Experiential learning is an opportunity for learners to apply what they've been taught to solve real-world challenges. Learners test their understanding of concepts through, experiments, and explore to achieve best outcomes.

Global Peer Collaboration & Networking
Learn and network with your peers who come from various backgrounds and perspectives.

Cohort Learning & Global Exposure
The cohort model enhances your learning while encouraging both academic and professional success.

Purpose-Driven Design Thinking
Students will develop curiosity, become actively engaged, and have a sense of purpose for their career and future.

Talks From Global Leaders
Meeting or listening to inspiring leaders in your field can be just what's needed to reinvigorate you.
Our Mission
Our mission is to take design education to the grassroots. Everyone, everyone on this planet will become design sensitive, make the right choices, and design their careers and lives.
Give a gift of Design
Enroll in a design course at UMO Design School and help a girl or woman from developing nations learn design, for free, by matching your contributions 1:1.
Bhuvana Shankar
"The UX Plus program at UMO Design School is one of the best online design courses I've ever taken. The course materials and the instructors are top notch. There is a lot of work involved but you will learn so much in only 4 months! I would highly recommend it to anyone interested in getting a head start in UX Design."
Vineely Ram Varanasi
"The teaching style, assignments, real time examples by connecting with the industry and the way doubts are clarified… all helped to develop a focused interest, better understanding of the subject while gaining confidence. We are not just taught but, we are moulded. At UMO, it is not just learning, but becoming a true designer! "
Dimple Chadnani
"UMO Design classes are so much fun, I can't wait for the next module!"
Bridget Blue
"UMO Design School provides a holistic view into the world of UX, from research to the finished product."
Tejaswi Shiv
"I never thought getting design literacy could be so fun! Thanks to UMO Design School."
Certificate
Upon completing the program, UMO Design School grants a verified digital 'certificate of completion' to participants. This program is graded pass or fail; participants must receive 80% to obtain the certificate of completion.
After successful completion of the program, your verified digital certificate will be emailed to you in the name you used when registering for the program. All certificate images are for illustrative purposes only and may be subject to change at UMO Design School's discretion.
UMO Design Foundation launches EXCEL, a digital design education, to inspire every student to be a purpose-driven design thinker.
EXCEL builds on UMO Design Foundation's school of thought "Good Design for Better Living" to inspire everyone on the planet to innovate by design for lasting business and social impact.
Let's excel together!
Get In Touch.
After you register, one of our team will get in touch with you.
It all begins with '
U
'
When you invest in your future through our programs, you're creating a meaningful difference in the world. Because with every product you buy, you support the needy and their education and build their skills to move out of poverty.
Together, we are creating futures.